Published on March 1, 2012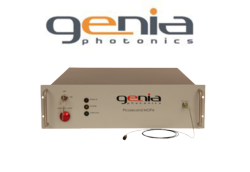 Genia Photonics, a leading innovator in fiber laser based solutions, introduces the new tunable fiber-based MOPA (Master Oscillator Power Amplifier) laser family that delivers short pulses in the picosecond regime and extending into the nanosecond range. The picosecond tunable MOPA laser offers quick and easy access to all key laser-operating parameters via its GUI (Graphical User Interface). Furthermore, the key feature of this product consists of full tunability within its wavelength range along with adjustability of operating parameters such as pulse width, repetition rate, and output power.
"The tunable MOPA laser is the perfect extension to our line of products offering the versatility our product are known for," said Joseph Salhany, VP R&D and Product Management at Genia Photonics. "The fact that our MOPA is tunable in wavelength while allowing the other operating parameters to be configured positions it to serve a multitude of applications. Furthermore, with adjustment of the repetition rate, one can combine the MOPA with a Titanium Sapphire laser and have them both synchronized."
Beyond the benefits of high frequency picosecond pulses, Genia's MOPA family leverages the benefit of a fiber-based platform that introduces no moving parts to replace and no free-space optics to be aligned. The design offers a seed source combined with a chain of amplifiers in a compact unit available in either a table-top or 19" rack-mount configuration. Plug-and-play operation makes it simple to install and use under the control of a PC through an accompanying graphical user interface (GUI) giving the user an easy way to operate and manage the laser.
The MOPA's output power, pulse frequency, pulse duration, and pulse energy are all user configurable with a large range of values to choose from. Output average power values can extend up to 30W, pulse widths from as low as 20psec, and pulse repetition rate from 100 kHz to 350 MHz, depending upon configuration. Current operating wavelength bands are 1030nm-1090nm, 1529nm-1565nm or 1571nm-1605nm.
Company Contact
Joseph Salhany VP, R&D and Product Management
Phone: (450) 680-3401 x2910
joseph.salhany@geniaphotonics.com